Winter 2018 Class Schedule

​Our Winter Session is a 10 week Session. This Winterl, we will be singing the Bells collection!

Cost is $215 for one child and $100 for the second child.*

For your convenience, we have brought back our PayPal option for payment! Paypal fees have been added to the payment, but if you'd prefer to avoid them, you are still able to bring a check made out to Marina Music Together or cash the first day of class. Email us with your class time/location preference at

marinamusictogether@gmail.com​

or click on the blue button underneath the PayPal option to save your spot!

Most of our classes are Mixed Age (0-5yrs), and our babies class (12 months and under) is on Friday at 11am in Westchester.

​

If a time/class that you want is FULL, please email us at marinamusictogether@gmail.com​

​*Siblings under 9 months are free!


​ DAY LOCATION TIMES TEACHERS DATES

​ Monday Mar Vista @ By Your 10:00 AM Michelle 1/8/18 - 3/12/18
​ Side Dance Studio


Tuesday Playa Vista @ The Resort 9:30 AM Michelle 1/9/18 - 3/13/18
in the Club Room
​ (reserved for PV residents) ​11:30am
​

​ Wednesday Mar Vista @ By Your 10:00 AM Michelle 1/10/18 - 3/14/18
Side Dance Studio


Wednesday Westchester @ 4:00 PM Michelle 1/10/18 - 3/14/18
LA Arts Collective


​ Thursday Mar Vista @ By Your 10:00 AM ​Ben 1/11/18 - 3/15/18
Side Dance Studio
​

​ Friday Westchester @ 10:00 AM​ Cristina ​1/12/18 - 3/16/18
LA Arts Collective 11:00 AM*
*babies 12 months and under
​
​
Saturday Mar Vista @ ​10:00 AM ​​Michelle ​1/13/18 - 3/17/18
reDiscover Center
---
PayPal transactions are temporarily disabled

*Paypal fees are included in prices to the left. Checks or cash are accepted in person at the first class if you wish to avoid the Paypal fees. E-mail at marinamusictogether@gmail.com to save your spot, or click the blue button to the left!
​

Note: Tuesday classes are reserved for Playa Vista residents
---
Fall, Winter and Spring Class Fees

For our 10 week Session
First Child $215 (10-week session & each family will receive one music packet, which includes two professionally recorded CDs plus a special code to access the Family Music Zone, where you can download the current song collection & explore fun content created just for you, accompanied by a beautifully illustrated songbook with family activity suggestions, chord charts, & development information.
Second Child $100 (10-week session, children under 8 months are free w/ sibling )

If paying by check, please bring on the first day of class and make payable to "Marina Music Together".

Cancellation Policy: you may cancel at any time prior to the start of the session minus a $40 non-refundable charge if CD and songbook have been opened and/or Family Music Zone code has been used

Use the Family Music Zone code with the app to get the music from the collection directly to your phone or tablet!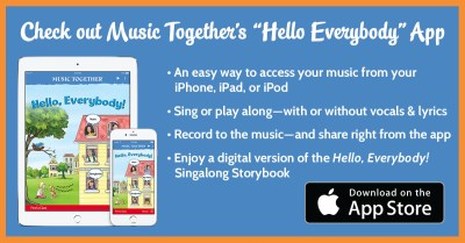 ---
Make-ups

We know little ones get sick, events come up, or life gets crazy! If you miss a class for any reason during the session, you can make up the class at any of our other times or locations
(excluding Playa Vista location if not a resident).
Simply email us at
marinamusictogether@gmail.com
to let us know you'd like to do a makeup class!
---
South Bay Location

To check out our sister company locations and schedule, click below:
---
Music Together art & logo design © 1992-2017 Music Together LLC. Music Together is a registered trademark. Marina Music Together is licensed by Music Together LLC. For more locations:
www.musictogether.com